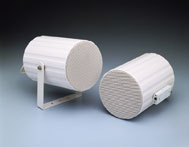 To view diagrams, you must have the Acrobat Reader plug-in. Download here
&nbsp
The CELL range of elegant sound projectors manufactured from epoxy coated high grade aluminium extrusion with dual cone drive units, gives both clear speech and excellent background music reproduction.

Vandalism has become a factor in all of our lives and with their rugged construction, these units are ideally for such places as shopping centres, railway stations, prisons etc. They can be supplied in different colours to suit customer decor, and junction boxes can also be manufactured to order.

In compliance with BS5839 part 8, the "C" versions incorporate a ceramic terminal and thermal fuse and are, therefore, suitable for use in voice alarm applications.