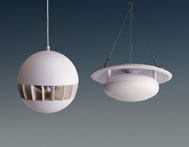 To view diagrams, you must have the Acrobat Reader plug-in. Download here

This range of modern styled spherical loudspeakers are true omni-directional devices, providing coverage angles of 360 degrees horizontal and 140~160 degrees vertical, giving an even dispersion over the audio spectrum. This excellent dispersion together with smooth frequency response and carefully controlled performance enable these speakers to offer solutions to many problems that arise in difficult acoustic applications.

Ideally suited for covering large open spaces such as, warehouses, open plan retail complexes, concourses, factories etc. These units are ideal for both speech and background music.

The GB20/T is supplied with a metal braided cable strong enough to carry ten times its weight and in compliance with BS5839 part8, the "C" version incorporates a ceramic terminal and thermal fuse making it suitable for use in voice alarm applications.

The SF20/T is supplied with a mounting kit for flush mounting, however, a hanging mounting kit is available as an optional extra, to enable the unit to be suspended from beams or ceilings thus offering the installer the widest choice of fixing.