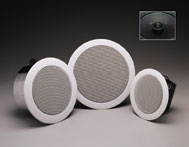 To view diagrams, you must have the Acrobat Reader plug-in. Download here
&nbsp
The RCS range of co-axial ceiling loudspeakers employ a two-way speaker system comprising a bass mid-range driver and separate tweeter. The bass response has been extended to give depth and warmth to both music and vocals. Both drive units have been carefully tailored to give an exceptionally smooth performance whilst still maintaining an unusually high sensitivity for this type of loudspeaker.

In compliance with BS5839 Part 8, the "FTS" versions incorporate a steel firedome, ceramic terminal and thermal fuse and are , therefore, suitable for use in voice alarm applications.